ZyNet Ltd, Minerva House, Pynes Hill, Exeter, Devon, UK, EX2 5JL.
Tel : +44 (0) 1392 209500 Fax : +44 (0) 1392 209510
For information about our services and sign-up please contact [email protected]
For billing queries please contact the accounts department at [email protected]
For technical support use [email protected]
To report an abuse of ZyNet's systems contact [email protected]
Please direct all other enquiries to the address above.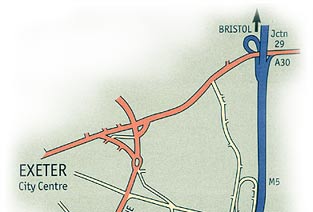 Find Us
Exit the M5 at Junction 30.
At the roundabout take the A379 turn-off. (Sign posted Exeter City Centre)
Keep going straight along this dual carriageway (ignore first two turn offs). After about ¾ mile you will go round a 270 degree left hand bend.
After the bend you will then join Rydon Lane.
At the 1st set of traffic lights turn left into the Pynes Hill Business Park.
Turn left at the T junction and follow the road along for around 200 yards.
Minerva House is the fifth of the large buildings situated on the right hand side.